Distinctive and individually handmade, Haddon rocking horse are unique to all others...
The Horse body retains the timeless grace of their predecessors being styled upon a design which is more than a hundred years old but has the added advantage and superior benefits associated with the ultra-modern Kevlar ® reinforced composite materials used in their construction.
Handmade by craftsmen, they are understandably labour intensive and require particular skill and care as each horse is constructed out so there are effectively no external joints or seams. In addition, they uniquely have additional steel rods built into the full length of each leg to ensure Haddon rocking horses are not only strong but decidedly strong... and with the distinct advantage of the added Kevlar ® reinforcement, they have a lifetime guarantee* to not split, crack, warp or distort.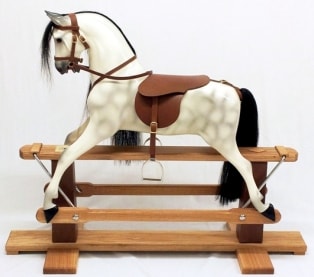 Haddon rocking horses are not only significantly stronger and more durable than ever before but they are also more resilient and less susceptible to changes in their surrounding environment, such as swings in room temperature or humidity which can often be found in some older homes as well as modern ones e.g. if placed in a conservatory.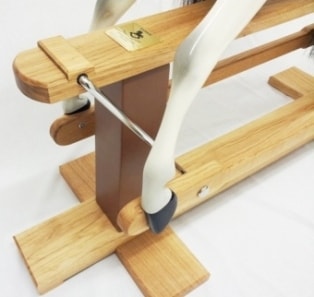 The Solid Oak Timber stand is constructed using only carefully selected timbers and fitted with sprung steel swing irons, doubled plated when finished in bright chrome.
For added piece of mind, the stand is made using materials typically 20% thicker than most others, so it's reassuringly tough enough to last. In addition, the two upright sections of a Haddon safety stand are square cut and tapered; they take longer to make compared to cheaper lathe turned spindles but are considered stronger and have become another feature almost uniquely Haddon.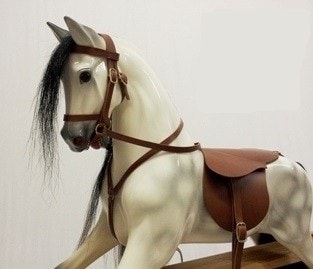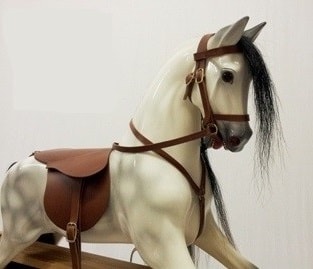 The rocking horse body and its timber stand are made as a matched pair and considered a perfect size for most pre-teens and older. The heavy timber base provides a reassuringly solid center of gravity for the horse which is carefully weighted and balanced to provide an enjoyable swing with the minimal of effort.
Understandably the solid Oak timbers will naturally wish to expand, contract and flex throughout their life. Therefore as an alternative to a conventional varnish, several coats of Tung oil are applied. This enhances both the natural colouring of the timber together with a level of moisture repellence whilst still allowing the timber to naturally breath, hopefully providing many decades of service with the minimum of maintenance.
The Leather Tack is from equestrian saddle grade leathers and considered attractively stylish with its clean lines and embossed logo, By design, it is functionally practicable, hardwearing and supplied as a matching set of saddle, stirrup straps, bridle and reins together with a martingale and crupper.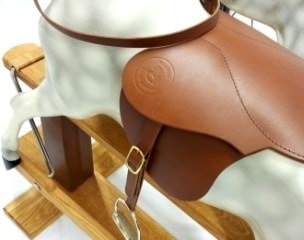 The two square tapered upright sections of the timber base are also finished with a stitched leather to match the leather tack.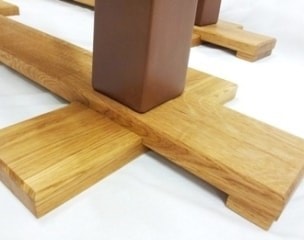 The Horse Hair in time honoured tradition, is real natural horse hair and after decades of experience, black hair has proven to be more durable and now always the preferred choice of colour used.
Further, again almost uniquely to Haddon, the mane and forelock have the advantage of being mounted with screws in a discreetly recessed groove within the head and neck so a relatively simple task to remove and replace at a later date without causing damage to the surrounding areas. Similarly with the tail.