After providing several decades of faithful service it's not uncommon to find one in the workshop being refurbished and refreshed before passed back within the family for a further generation to enjoy.
As the original maker, Haddon believes no one knows their rocking horses better than them... and therefore pleased to offer owners a fixed price for a FULL in-house refurbishment so there are no hidden surprises.
In addition, Haddon also provide their own in-house UK mainland door to door 'Collection & Delivery' service so you avoid any hassle of wrapping, packing or making of courier arrangements,
After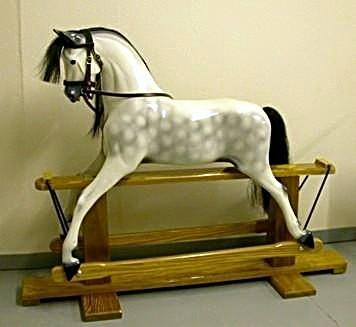 Before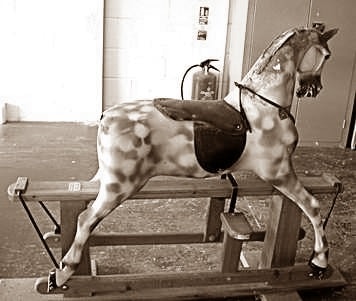 Once started, a refurbishment will typically take between 3 - 4 weeks and when completed your rocking horse will be dressed with the latest style of leather tack, a new mane and tail together with a new replacement 'maker's plate' recording its individual serial number (all included in the fixed price of refurbishment).
A full refurbishment is fairly comprehensive and returned looking refreshed and hopefully ready to provide many more years of faithful service and enjoyment.
However, due to seasonal demands, workshop allocations can on occasions become over subscribed therefore it is always best to first discuss any requirements you may have well in advance to avoid unnecessary delays or potential disappointment particularly if completion is intended for a specific time sensitive event e.g. birthday, christening etc